Greet the Spring with $25 a Amazon GC US/CAN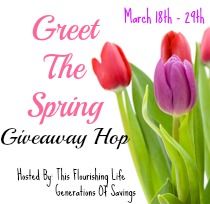 Welcome to the Greet the Spring Giveaway Hop, hosted by This Flourishing Life and Generations of Saving. Each participating blog will be hosting a giveaway worth at least $25.
For this event, I'll be giving away some spring cleaning supplies, shipped directly to you from Amazon. Just click the link and tell me which item you'd most like to have, around the $25 range. I know there aren't many things exactly that amount, I'll send the winner a $25 Amazon GC so they can select the item they most want or can save it towards a larger purchase later. Maybe you need cleaning supplies, household goods, organizing tools, gardening tools, whatever. I am a huge proponent and user of the Subscribe and Save program for my own cleaning needs. I love never worrying about running out of the basics, they come shipped right to my door!